ˈhəbəb/ noun
1. a chaotic din caused by a crowd of people
2. a busy, noisy situation
HAND TO GOD
"... a fine job of corralling a willing cast into a fabulous farce that achieves unexpected depth." – SM
"WOW. What an awesome night... hilarious and tragic..." – ER
MR. MARMALADE
"Great to see gonzo theatre done well. Raw, unpolished yet controlled, disturbing yet oddly uplifting, this is a different kind of theatre. Trainwreck, you done good!" – SM
"I laughed so hard I cried. Delightfully dark and sadly hilarious. Congrats to the cast and collaborators on such a success. Make your way to the Smokestack... You'll be glad you did." – ER
GRUESOME PLAYGROUND INJURIES
"Saw a great show at the Smokestack tonight: Gruesome Playground Injuries. Thanks for a wonderful evening of tender, compelling, funny/sad theatre, oh ye Trainwreck ensemble! Great performance, Gwen Beatty and Ryan Michael Decker!" – AR
"Gruesome Playground Injuries has an emotional nakedness with Gwen and Ryan giving it their all... Recommended!" – SM
"I was really blown away. So good. So f--ked up... Thanks for a great memory." – DH
"It is a wonderful show." – MG
AVENUE Q
"I feel bad for anyone who didn't get to see Trainwreck Productions' production of Avenue Q this weekend. By the end of the first act my face was in pain from smiling and laughing so much... the entire cast did a terrific job..." – ER
"I went last night... it was awesome... pretty *&@#in awesome..." – JA
"Congrats on a fun show! I really enjoyed it!" – AR
"What you do with so few resources! Congrats on Q. Fun night." – CG
"Such a great show! So much fun! I was guffawing the whole time!" – CH
"You would think that after nearly eight years of doing this thing called theatre, I'd get over the nostalgia of after show blues, but that's just not the case. Avenue Q was a great experience and one I'm so glad I went for. It was a blast to work with so many wonderful and talented people, and I'm greatful that I had the chance to reunite wit people who got me into this crazy world of theatre in the first place. Congratulations on a job well done to the entire cast and crew of Avenue Q!" – DV, actor
RED

"RED is simply brilliant! ... Be sure to be there!" – GC
"...you'll be sad if you miss this great performance." – JT
"Both actors delivered their heavy line load with convincing certainty and smooth cadence... This play is timeless, pertinent and very powerful. Bravo Trainwreck!" – GT
REEFER MADNESS

"Trainwreck Productions' performance of Reefer Madness was the most inspired local theatre I've seen since [title of show]... Hey! That was a Trainwreck project too!" – PN
"I'm giving this production of Reefer Madness really HIGH MARKS." – DB
"Everyone brought their A game tonight with a great show. If you haven't seen them, go check the show out… You won't regret it." – AM
"Trainwreck Productions does it again! Great show last night. Had so much fun I'm going again on Saturday. Lots o' laughs and top-notch performances!" – MM
"FANTASTIC SHOW!!! We loved it!! Thanks for another great TRAINWRECK!!" – SK
"What a fun show! We did not know what to expect, which was just fine-very entertaining and very well done." – MBV
"The show was funny and entertaining. Great acting." – MV
"Encore? Encore?" – AB
"Great campy show… keep the good shows coming and thanks for the laughs." – TK
"You all were so great! I loved this fun production!" - RB
"Awesome job to everyone! Enjoyed the show immensely and a very talented cast!" - CH
"It was great! Can't wait to see it again on Saturday. Everyone did a great job. Two thumbs up." – SD
"Reefer Madness gave this non-toker a natural high. Big fun!" – CG
"I saw, and loved, Trainwreck Productions' production of Reefer Madness! It was hilarious, smart, a little bawdy (just enough), irreverent, and really, really fun. The house was packed, and the audience was great! Bravo, to the whole cast, and bravo to Eronel for giving a home to this kind of theater experience." – PS
"Stunning. Yes. They fricking ROCK!!" – MC
"…the Old Guard let its guard down... troupes with more money and longer traditions do not touch the performances of Trainwreck." – Anon.
[TITLE OF SHOW]
"…the freshest theatre I've seen in Dubuque. Time to up your game, Dubuque! Trainwreck Productions is in the house!" – PN
"Every event I've seen performed by Trainwreck Productions is a hit! This small cast is outrageously funny and very talented. Do yourself a favor and get a life by seeing this show." – CS
"Terrific performances from a theatre company who knows how to have fun. Make it you mission to get to this show." – MM
"This was one the best, most engaging and creative things I've seen in a long time. I'm grateful to have been in the very intimate audience…" – AR
THE IMPORTANCE OF BEING EARNEST

"…All I can say is BRAVO to the cast and crew. It was an incredible performance by a group of talented young actors. Entertainment at its best." – CS
"A truly enjoyable evening of theatre provided by Trainwreck Productions... GO SEE The Importance of Being Earnest!" – CG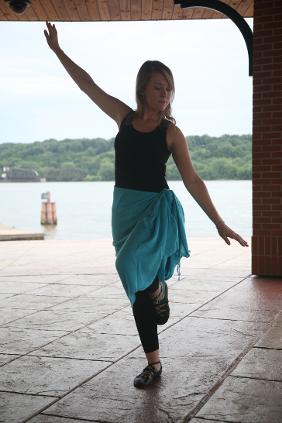 Traci Evers as The Girl in The Game, 2011.