A different kind of travel agency...
OUR MISSION.
Trainwreck Productions (TWP) aspires to produce the best damn found-space theatre and to promote young theatre artists in Dubuque, IA.
HISTORY.
Trainwreck Productions began in 2008, founded by Ryan Decker with Anna Troy, Paige Triervieler, Mary Zanger, and Sarah Szeibel. Opening its first production in May 2009, the company's mission was to provide young theatre craftsmen an outlet to create avant-garde theatre, take risks... and screw-up!
Since then, TWP's mission has focused to found-space and original productions. Among others, past disasters include: the cinema-stage hybrid of Joss Whedon's Dr. Horribles Sing-Along Blog; Edward Albee's absurd The Zoo Story; a "hipster" Importance of Being Earnest; and the premiere of original local scripts in our 24-Hour Theatre Project and Fresh Ink productions.
Trainwreck Productions became an affiliate program of the Dubuque County Fine Arts Society in 2013.
CONTACT.
Feel free to contact us, we look forward to hearing from you!
Email Ryan Decker, TWP Managing Director, at decker@trainwreckproductions.org.
Email our board of directors, Dubuque County Fine Arts Society, at info@dcfas.org.
Mail us at TWP c/o DCFAS, PO Box 1166, Dubuque, IA 52004.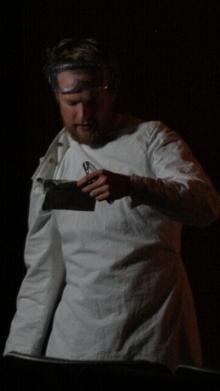 Ryan Decker in Doctor Horrible's Sing-along Blog, 2009.
STAFF.
Nicholas Johnson
INTERIM ARTISTIC DIRECTOR
Ryan Michael Decker
MANAGING DIRECTOR / FOUNDER
BOARD OF DIRECTORS.
Ali Levasseur
PRESIDENT, TREASURER
Paul Kohl
SECRETARY
Bibi Burke
Doug Mackie
Sunil Malapati
Art Roche
Ron Tigges

C.O.R.E. COMPANY.
CREATIVE ORGANIZERS & REGULAR ENSEMBLE . . .
Emily Anderson
Ryan Decker
Melissa Goranson
Tim Goranson
Nicholas Johnson
Luke Lawson
Jennifer Maki
Keri Schwanekamp
Gwen Werner
Logan Wright
Trainwreck Productions is an affiliate of the Dubuque County Fine Arts Society (DCFAS). DCFAS is a volunteer-driven 501(c)(3) not-for-profit arts organization serving the Dubuque, Iowa community with low or no cost arts experiences. Their efforts add to the culture and quality of life in the Dubuque area and create economic opportunity through the arts. To learn more about DCFAS and its affiliates, visit www.dcfas.org.